Number 3 on the list was my favorite (as seen below) but you can see the entire list of little warm buddies here!


A
small but mighty heater with cool-touch settings so you it'll be NBD if you park it on top of your dresser.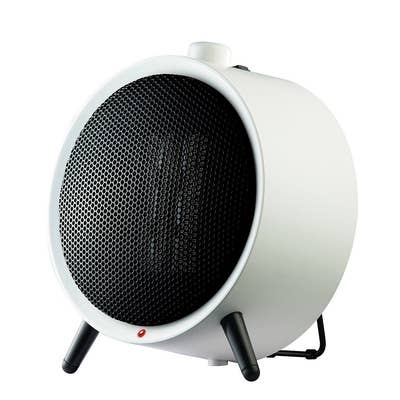 amazon.com, Amazon
1500 watts; two heat settings and thermostat
Promising review: "This little heater puts out so much more heat than I was expecting. I have it in my bedroom (about 12"x17") and it keeps it nice and toasty! It has a temperature gauge so if the room gets to the temp on the dial, it will stop blowing heat. And it gets pretty hot, so I have my temperature gauge turned down to a little less than half way. I love the sleek look of the heater, it complements my room nicely with its modern look, which is very important to me. The cool touch shell is a big plus since the heater sits on top of my dresser. My husband had suspicions about this when I ordered it because of the small size but even he said he is impressed with the power of it, it works so much better than our last space heater. The fan in the heater is a tiny bit noisy, but I like that because I like having white noise when I go to sleep, it's not too loud. If I could give more than 5 stars, I would. Definitely worth the price!" —Leanne S.
Price: $34.99+ (also available in black)